With the general availability of Add-Ons on the DigitalOcean Marketplace, Plesk comes to the foreground with the 360 Monitoring Add-On, allowing developers to keep track of their servers and websites to improve performance and keep online businesses running with ease.

Although it is not surprising that working with 360 Monitoring is an ease and a breeze, let's have a look at how the DigitalOcean Marketplace can be just the right space for you.
What is the DigitalOcean Marketplace?
In 2019, DigitalOcean launched the Marketplace, delivering a platform for pre-configured one-click apps and tools that allows users to quickly install standard software packages on their favorite cloud service provider. In the endeavor to assist developers in removing operational burdens, DigitalOcean introduced its Marketplace to enable users to effortlessly double down on creating, deploying, and scaling their online business.
With Add-Ons such as Plesk 360 Monitoring offered through the DigitalOcean Marketplace, developers can swiftly include new functionalities into their business operations while improving the developer experience and providing solutions for businesses to grow.
Gone are the days of time-consuming account management. Effortlessly manage your account and multiple invoices. Make use of a secure SaaS dashboard login and centralized billing through DigitalOcean. You can seamlessly integrate Add-Ons that require little to no administration or maintenance, delivered on-demand through software providers in the Marketplace.
Overall, the Marketplace brings together the most valuable players in the entire ecosystem of software tools. Embracing Plesk, DigitalOcean enables its users to make WordPress hosting a walk in the park.
Plesk on DigitalOcean
Plesk and the WebPros group have been shaking hands with DigitalOcean for years, a partnership that swiftly led thousands of shared customers to use the Plesk and cPanel one-click apps in comfort.
As such, Plesk is part of the handpicked set of solutions built by technology gurus to provide next-generation tools and services that matter. Manage websites, WordPress, and multiple domain hosting on DigitalOcean with the Plesk Control Panel.
360 Monitoring to the rescue!

With DigitalOcean announcing the general availability of Add-Ons, we are excited to see 360 Monitoring on the Marketplace to keep businesses and operations safe and sound.
"We are glad to double down again on our successful partnership and look forward to helping builders on DigitalOcean improve their uptime and service offering through better server and website monitoring with 360 Monitoring" – Lucas Radke, Product Manager at Plesk.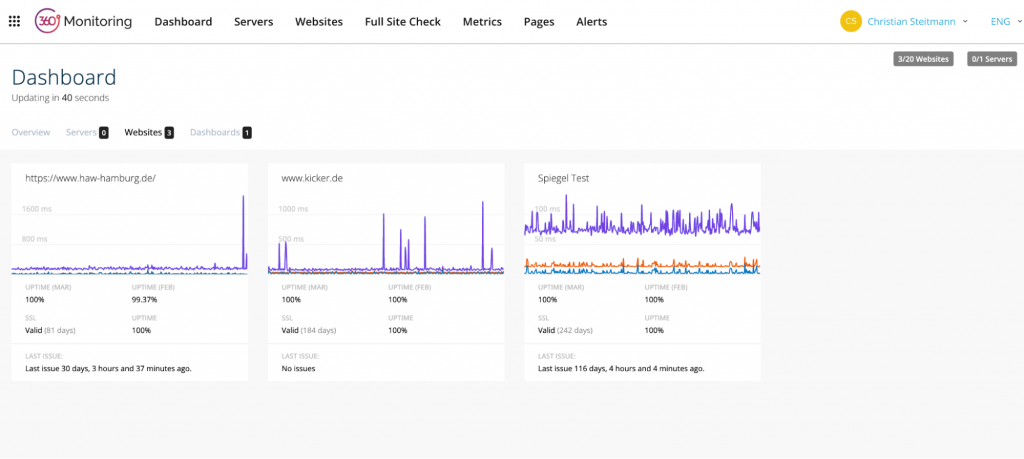 With 360 Monitoring included in the Marketplace, developers and web professionals are empowered to become as strong as steel. Monitor any server or website, track the performance of the entire software infrastructure, and keep online businesses running straight.
All done with an easy setup, configurable dashboards, and customized tools to tailor the solution to a specific need.
Including:
Complete Website Uptime Monitoring
Comprehensive Server Uptime Checks
Frequent scans & personalized alerting
Out-of-the-box integrations including eMail, Slack, SMS, KVM, Docker, and many more
Optimized for Plesk and cPanel servers, but can be used with any Droplet or Website running on DigitalOcean.
Get Started with 360 Monitoring on DigitalOcean
Are you curious to find out how to make the best of Plesk on DigitalOcean? Take a turn for the better and embrace 360 Monitoring Add-On to stay on top of your online business.
You can visit the Product page for more plan details and pricing information.
As the Plesk community grows day by day, so does the list of add-ons readily available on the Marketplace.
Excited to reach more than six hundred thousand developers across the globe, Plesk and DigitalOcean are welcoming you here to stay.